28 May, 2021
Ertha CBD Herbal Infusion Properties and Benefits
9 MINUTES READ
Herbal infusions and hemp tea are famous since the antiquity. Normal, if we think that we are surrounded by that much nature. One of the thousands of existing plants, is also cannabis that has been used worldwide for daily or therapeutic use.
For example, cannabis infusions were known among cultures in India, China, Egypt, Greece, Italy, Caribbean islands and many more parts around the word. Even if the prohibitions have targeted cannabis use in general, the last years there is a great need in revealing cannabis and its beneficial properties.
On our online e-shop, since 2016, we provide you with a fully updated list of the most innovative cannabis products. In collaboration with Ertha we offer you infusions of premium quality with certified herbs. The cannabis flowers present in Ertha infusions come from certified organic crops of the industrial hemp strain Futura 75 (French origin seed ), in Kokkina (Magnesia, Greece).
In an excellent micro-climate for hemp plants, among two hills with continuous air flow, plenty of sunny days, and ideal temperature variation from day to night. The flowers are selected by hand and dried naturally maintaining all the essential properties.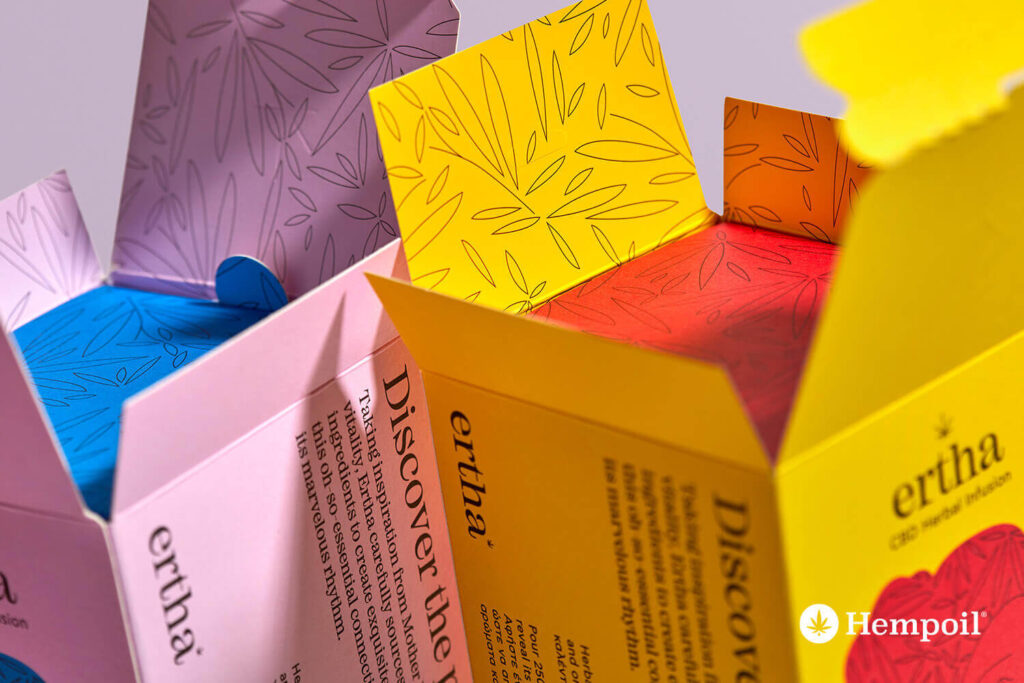 Concerning the other herbs, Ertha chooses certified herbs from the area of Ksirolimni (Kozani, Greece), in 700m altitude with excellent soil and climate conditions. In order to comply with the European standards and ensure the premium quality, the brand pays particular attention during the whole procedure from the sowing, growth, harvest to drying and storing the herbs. In this way we enjoy herbal infusions of premium quality, by certified herbs that preserve all the flavors and the beauty of nature.
Explore the collection of the Herbal Infusion tea Ertha with hemp flowers and pure Greek organic herbs in 4 unique combinations;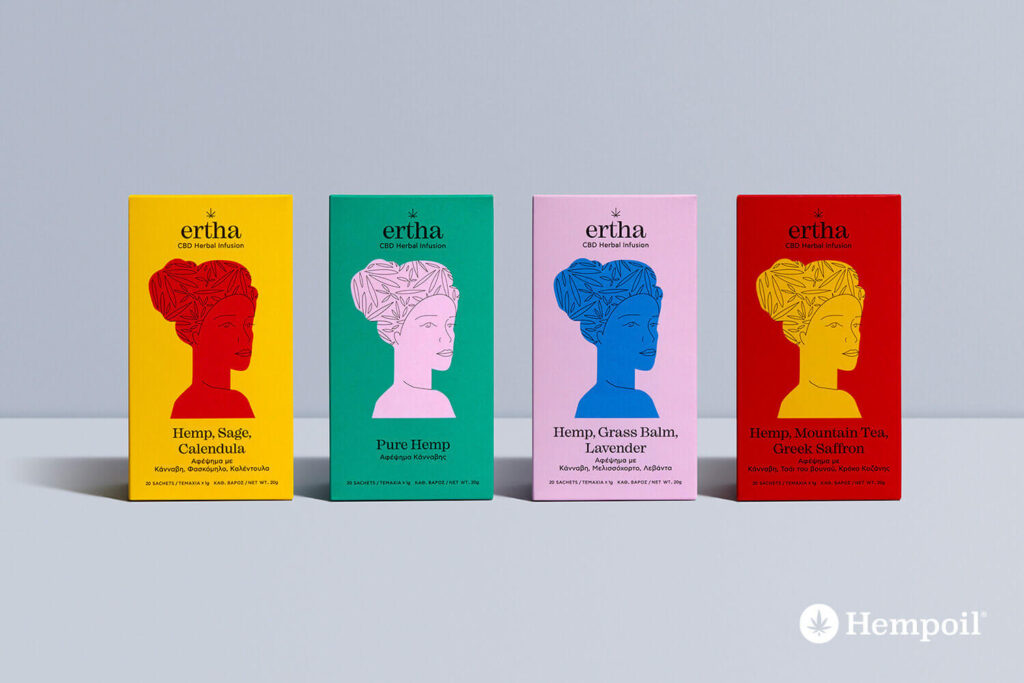 Hemp infusion, Natural taste.

Such a small quantity, yet it hides all the cannabis flowers and seeds benefits. An organic beverage rich in cannabidiol, minerals, fatty amino-acids and proteins, for harmony all day long.

Hemp infusion with mountain tea and Greek saffron

. A powerful drink with     many properties. The mountain tea or Sideritis is known for the medical effect and it is among the most favorite Mediterranean plants. On the others side the Greek saffron is famous for the high concentration in vitamin Β2, boosting the organism. The power of fabulous plants inside a small pocket of wellness and harmony.

Hemp infusion with lemon balm and lavender. The lemon balm is known as     the plant of longevity. It has cardioprotective, antimicrobial, stress relief effect. On the other side the lavender is famous since the ancient years for the unique scent and the strong antimicrobial and soothing effect. In this case, we have a great mix especially for those moments when we need peace of mind and relaxation.

Hemp infusion with sage and calendula

. The sage is a well-known     Mediterranean plant, for the healing properties such as antiseptic,     spasmolytic, expectorant effects while it tonifies the system. It is     famous as the herb of immortality, while in ancient Rome it was called «holy   plant». Calendula  is known for the antioxidant, antiseptic, neuroprotective effect while it enhances the vitality of the skin and the health of the gastrointestinal system.
Hemp Tea Benefits & Properties
Cannabis  is known for the cannabinoids, which they can be found also in other plants, such as echinacea, although in cannabis strains there are in  greater concentrations. Cannabinoids are substances detected in cannabis plant under the form of acid, which they turn to the final form with the decarboxylation method. Some of the most popular medical cannabis cannabinoids are cannabidiol (CBD), cannabigerol (CBG),  tetrahydrocannabinol (THC), cannabinol (CBN) and many more.
The last years cannabinoids have drawn the interest of the scientific community because of the positive results that seems to bring in several disorders of organism's homeostasis. What is mostly observed is that there is a significant change in patient's quality of life, thanks to the analgesic and anti-inflammatory properties that they have, leading to a balanced everyday life.  Depending on the cannabis strain, that is used in the infusion, there are different cannabinoids that will spread in you beverage, just by adding a fat, like milk or butter.
In Greece the law allows strains of Cannabis Sativa L. (thc<0,2%),  that  means they have small percentage of tetrahydrocannabinol, while they are rich in cannabidiol and cannabigerol, two cannabinoids with many beneficial properties. Especially for cannabidiol, the World Health Organization in a report published in 2018, refers that this certain substance is safe with potential benefits to the organism.
It is worth underlining that all of the cannabinoids are essential and each one has different effect, while all together compose a powerful and precious combination of substances to the organism .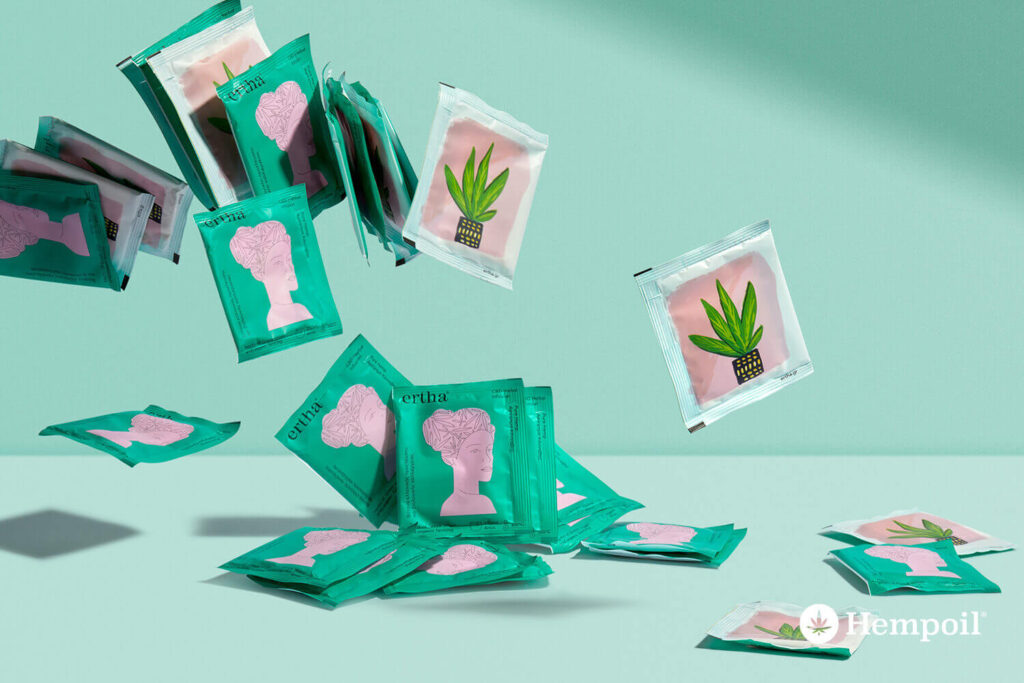 Reasons to include cannabis infusion in our daily program
Contributes to a balanced heart function
The organic cannabis tea with flowers and seeds is a high nutritional beverage, rich in proteins, amino acids, fatty acids Omega3-6, metals, minerals, terpenes, flavonoids and cannabinoids. According to the journal Pharmacological     Research, cannabinoids lower the blood pressure, improving the circulatory system, leading to a healthier heart.
Protects the lungs
Cannabis has a bronchodilator effect leading to better lung functionality, reducing the inflammations,and widening the breathing.  Some researchers refer that cannabis use has great results in asthma conditions, while it contributes significantly to the regulation of bronchoconstriction.
Contributes to a balanced function of the gastrointestinal system
Some researches show how cannabis consumption can contribute to an inflammation reduction in conditions such as Inflammatory Bowel Disease (IBD), and Irritable Bowel Syndrome (IBS), thanks to the powerful anti-inflammatory effect and the "communication" with the endocannabinoid system which activate the function of organism's homeostasis. Furthermore, it is observed a reduction in cramps, and muscle spasms, while it contributes to the protection and good function of intestine especially in cases of the intestine troubles.
Relief from stress and anxiety
It has neuroprotective and anti- inflammatory effects protecting the organism from stressful factors, improving the daily routine. Moreover, it is observed a decrease in anxiety, and depression, as the tea enhances our body function protecting the organism from inflammations that can lead to pain and discomfort situations.
Soothes the chronic pain
Cannabis tea may reduce chronic pain in a natural way, while its effect lasts from 4 to 8 hours. It is ideal for daily use, especially in conditions such as rheumatoid arthritis, multiple sclerosis, and fibromyalgia.
Reduces nausea symptoms
Nausea is an unpleasant feeling which can be temporal or chronic while it can be caused by anxiety, food poisoning, pregnancy, or chemotherapy. Cannabis and especially cannabidiol (CBD) has an anti-emetic effect, contributing to a reduction of nausea symptoms.
Herbal CBD infusion and properties
Let's see briefly cannabidiol's beneficial properties;
Neuroprotective
Anti-epileptic
Cardioprotective
Stress relief
Antipsychotic
Analgesic
Anti-inflammatory
Antiasthma tic
Anti-cancer
Cannabis Tea Preparation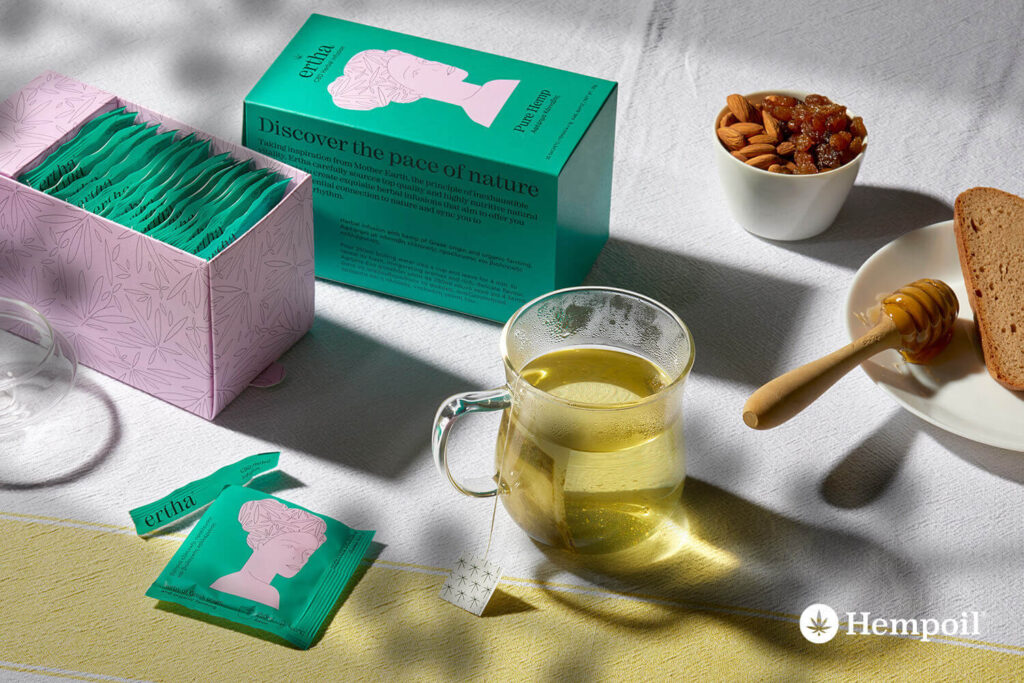 For the preparation, we will need one of the premium quality Ertha Cannabis Infusion teabag. We heat 250ml water and when the temperature reaches 100°C, we put it in our cup with the teabag. Additionally, we can put almond milk, coconut oil, or any other fat. We wait 4-5 minutes for the infusion and we can enjoy an exceptional organic cannabis tea.
Cold Hemp Tea
Preparation and ingredients for 8 people
In a jug, we put 6-8 teabags of Ertha CBD Herbal infusion. We fill the jug with 8 cups of water, room temperature. We put the jug in the fridge for 8-12 hours. Attention, do not put in the jug any kind of sweetener. After the procedure, we can taste the cannabis tea. If we want stronger flavors, we can leave the teabags more time.
Dosage and Side effects of cannabis tea
Each teabag contains 5mg cannabidiol (CBD/CBDA).  To avoid discomfort side-effects, it is good not to exceed the recommended daily dose, which is 30 mg, especially if you are using already other cannabidiol products, such as CBD oil, or CBG oil.
One more time we will remind that no herb is panacea and every plant should be used consciously depending on the case. Therefore if we learn to "hear" nature and the precious information shared with us and use them for the common good, then we will get a lot of benefits.
A good point to conclude, quoting Rachel Carson; "The 'control of nature' is a phrase conceived in arrogance, born of the Neanderthal age of biology and philosophy, when it was supposed that nature exists for the convenience of man".
Need help? Would you like to learn more about medical cannabis and CBD? Do not hesitate to contact us at [email protected] or reach us at our social media channels.