07 December, 2020
Skin Conditions and Cannabidiol (CBD) Treating Psoriasis: 5 Natural Ways to Confront It
11 MINUTES READ
Psoriasis is a chronic autoimmune disorder of the skin triggered by various autoimmune, genetic, and environmental factors. What are the possible natural remedies to treat this ailment?
In this article, we are going to analyze the alternative supplementary treatments to traditional ones. We will therefore approach several points regarding the psoriasis theme.
Overview
Psoriasis, symptoms, and causes
5 natural remedies for psoriasis
CBD and psoriasis
Studies on Cannabis and Psoriasis
Psoriasis, an overview
There are several types of psoriasis, including pustular, plaque, guttate psoriasis, and erythrodermic psoriasis.
The most common type that can affect almost 80% of the cases, is plaque psoriasis. It has the characteristic red or pinkish plates, well-circumscribed with silvery-white scales. It is generally experienced as a severe imperfection since it coincides with the appearance of redness, scaly plaques, and skin lesions in various areas of the body. It is a skin disease that affects people between 11 and 45 years old with a weak immune system. While not contagious, many patients complain of social and work discrimination due to their illness.
Psoriasis Day is celebrated on 29 October worldwide, emphasizing the need to inform people about the absence of risks they run when dialing individuals with this disease. In Italy, over 3 million people have psoriasis, while in Greece almost 200.000. The studies conducted so far on patients, concerning the already used treatments' effectiveness, have shown little encouraging results.
84% of the patients, in fact, declare themselves disappointed by the treatments, while 90% of the cases abandon every try. These are the data reported by the ADIPSO survey, Association for the Defense of Psoriasis, conducted on 5,278 patients and 2,560 medical specialists.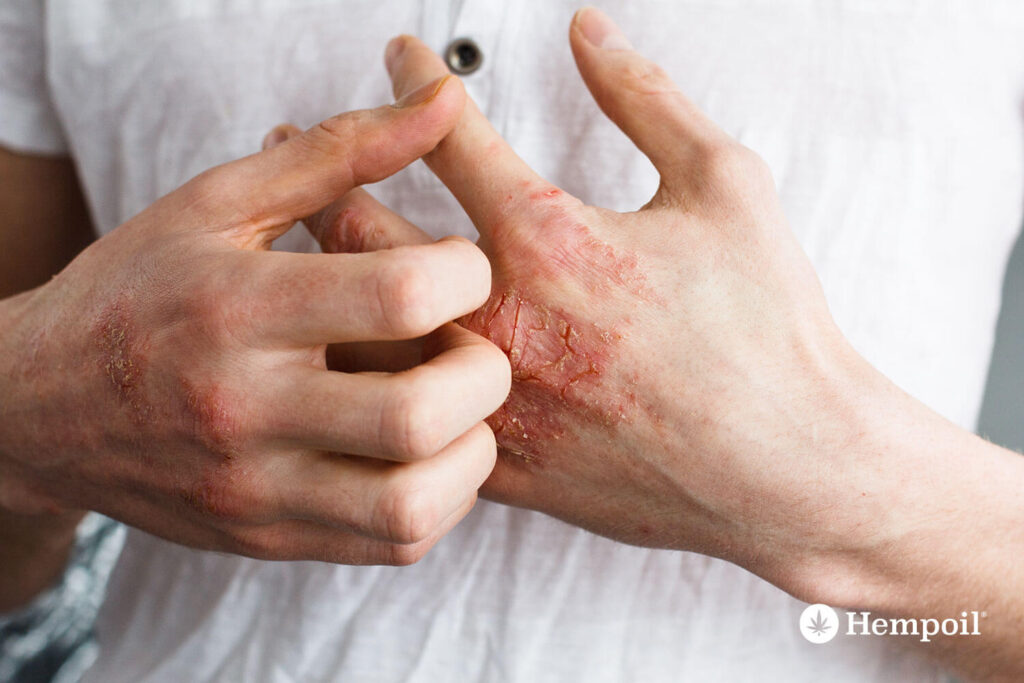 What are the most popular treatments to relieve psoriasis?
Psoriasis can develop anywhere on the body, although the most commonly affected areas are the knees, elbows, and scalp. Therefore, it can be present also in the hands. Until now, there is no definitive cure for those suffering from this disorder, but there is a wide variety of treatments that help alleviate the symptoms.
Therefore, a careful medical evaluation shows how psoriasis can have various natural treatments improving the appearance of the skin while counteracting the disease's progression. Although they cannot replace medical treatments, these natural remedies can help us fight psoriasis symptoms, reducing itching, and significantly improving the skin's appearance. On this occasion, we want to share with you the 5 most effective methods to relieve psoriasis so that you can integrate them with the conventional treatments.
Psoriasis: Symptoms and causes
Psoriasis can affect any individual at any age. Generally, it manifests itself with evident alterations of the skin tissues and itching in different body areas, particularly on the scalp, hands, knees, feet, elbows, nails, neck, and back. The skin tends to thicken and then injure or appear in the "critical points" erythematous plaques with clear margins in a round shape and a silvery-white scaly form.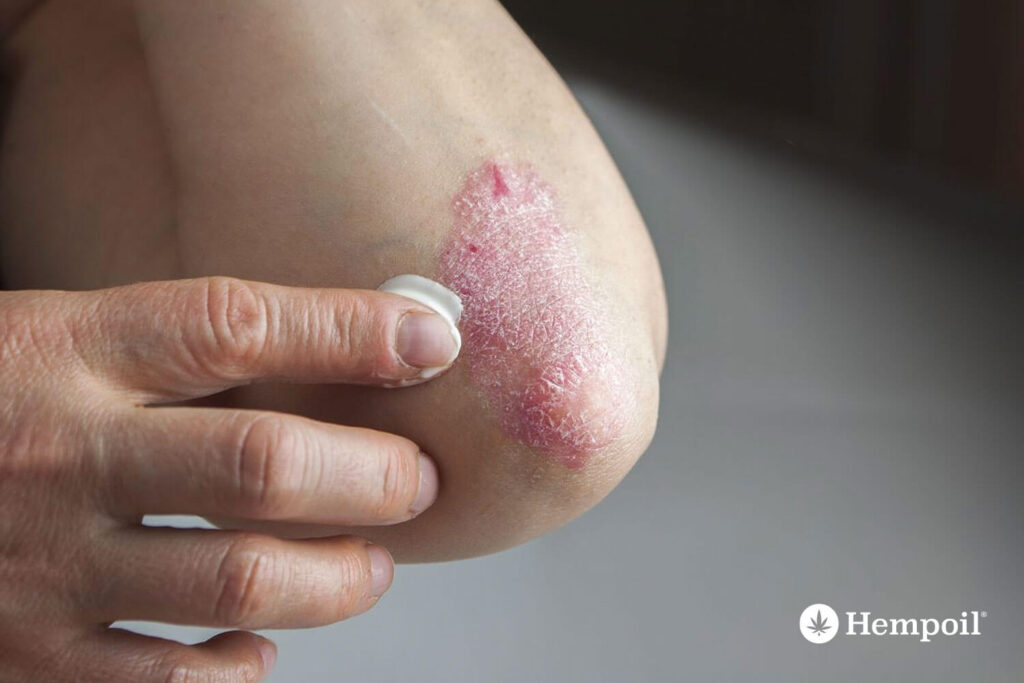 Psoriasis remains a difficult rebus in some ways, mainly due to the various possible causes that can be attributed to this pathology.
Familiarity and DNA: It is assumed that a genetic deficiency causes the excessive proliferation of cells, which is reflected in the high percentage of familiarity with psoriasis
Unbalanced diet: another cause that is correlated with the intestinal system's health and the difficulty in digesting proteins.
Sometimes, psoriasis can be caused by a food allergy, or by the body's deficiency in eliminating toxins, which causes excessive reproduction of skin cells.
Also, concerning the detoxification of the body, a presence of microbes that lead to an imbalanced intestinal bacterial flora can be linked to a reduced liver function or lymphatic vessels, generally speaking when it comes to filtering and purifying the body waste.
Stress can be another underlying cause of this disorder, leading to hormonal changes or intolerance to specific drugs such as NSAIDs, lithium, or beta-blockers.
5 totally natural remedies for psoriasis
The search for valid alternatives to some drugs that can have annoying side-effects, or even to biological drugs, is a common practice, especially in the hypothesis of not abandoning traditional treatments but combining them with natural solutions.
Treatment of psoriasis with sun exposure
Let's start with a piece of low- cost advice, and also not very demanding, weather and seasons permitting. For individuals who have psoriasis, it is recommended sun exposure leading to desirable results. Many doctors recommend it to ameliorate symptoms, trying to carefully assess that their patient is not one of the 5% of cases in which exposure to sunlight can experience a worsening of the condition. It is certainly not a remedy that can solve the situation independently, but it can be considered an excellent adjuvant to conventional therapies.
Physical exercise
We refer to these sports that involve intense physical activity, where the anti-inflammatory and anti-stress effects can be an ally that should not be underestimated in the prevention of psoriasis. If stress is identified as one of the possible causes of psoriasis, then regular and continuous sports activity could slow the development of this condition.
Scientists have observed that after 30 minutes of exercise, the anandamide levels have risen while activating the neurobiological reward mechanism that makes us feel good and helps decrease and fight stress and anxiety.
Spa and salt-therapy
Among the therapies that can bring benefits in the case of psoriasis, is balneotherapy or hydrothermal treatment. It involves the use of thermal waters, with a preference for sulfurous mineral waters, rich in calcium and magnesium. It is considered adequate therapy for mild psoriasis and those who prefer to reduce or avoid a heavy drug prescription.
An alternative therapy but with a similar concept is based on the salt caves or halotherapy. It was born in the world of wellness and beauty centers, but lately is gaining space even within hospital structures.
Halotherapy is a suitable practice either for patients with psoriasis or those who have eczema, dermatitis, and respirational problems.
Herbal treatments and vegetable oils
In nature, we can find different solutions, mainly between herbal treatments and vegetable oils. The most used ingredients are aloe vera, chamomile, and cayenne pepper, from which capsaicin derives.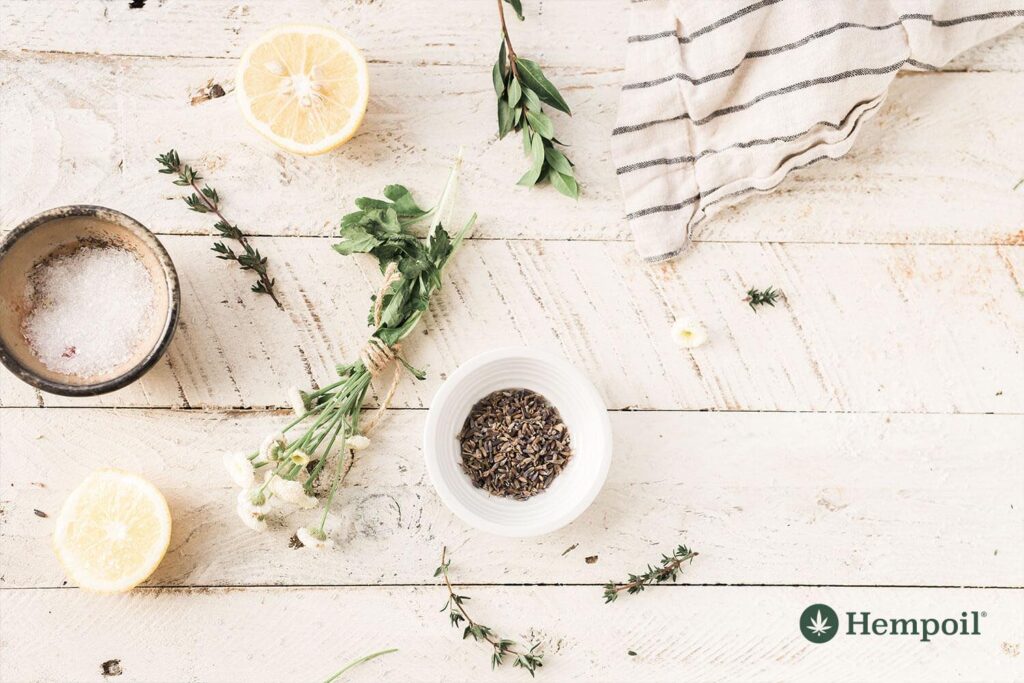 Among the vegetable oils, the most effective and used are jojoba oil, and macadamia oil, as they are rich in emollients, antioxidant, and protective properties. Their primary active function is to prevent inflammation.
Using CBD oil (Cannabidiol)
Finally, to stay in the world of herbal medicine and, therefore, natural remedies, CBD oil can be a solution capable of reducing the intensity of psoriasis interacting with the lymphatic system and the immune defenses.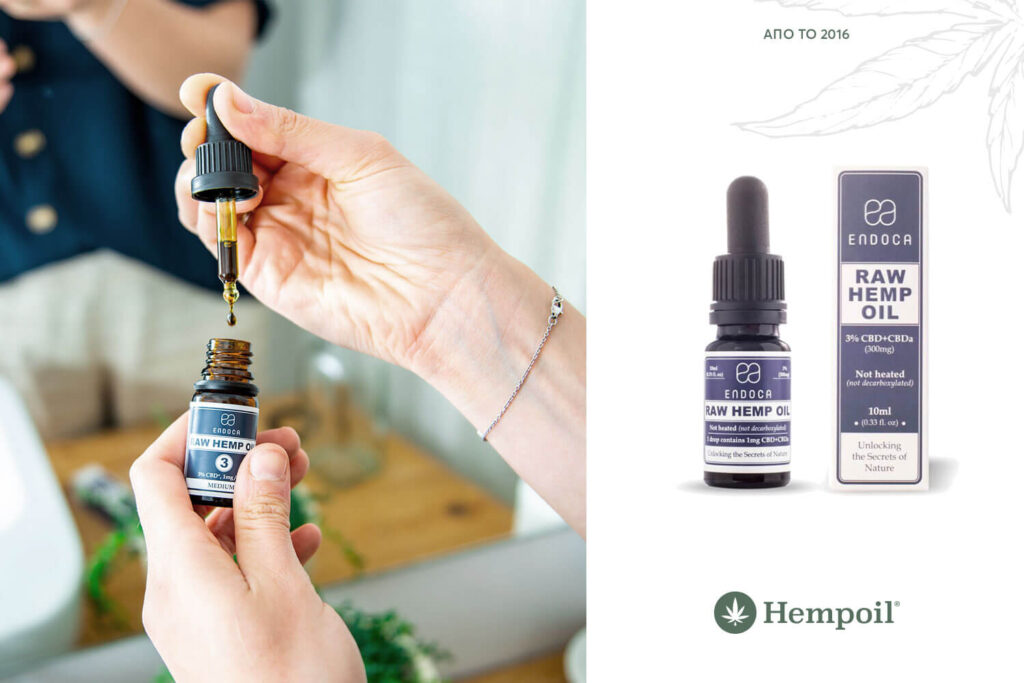 Skin Conditions, Cannabidiol (CBD) & Psoriasis: Applications
The inflammation of the skin at the base of psoriasis triggers a reaction that leads to premature cell maturation, and, consequently, to the disease's characteristic lesions. Cannabis, thanks to its anti-inflammatory function, modulates the regulation of this response to our body. The mechanisms that act basically in psoriasis involve the human immune system. The endocannabinoid system "communicates" with the immune system and acts on regulating certain physiological functions. The complexity of the relationships that cause the endocannabinoid system to contribute to the skin's cellular balance, is the context where cannabidiol exerts its beneficial qualities to counteract psoriasis.
How to use CBD for Psoriasis?
CBD is applied directly to the affected skin area. The market is available to everyone's needs offering a wide range of CBD application products, such as oils, ointments, creams, and even lip balms with cannabidiol extracted from the plant or the hemp seeds.
Thanks to this versatility, cannabidiol products for topical use are increasingly used by those who have psoriasis and those who want to soothe the symptoms of dermatitis or other skin diseases.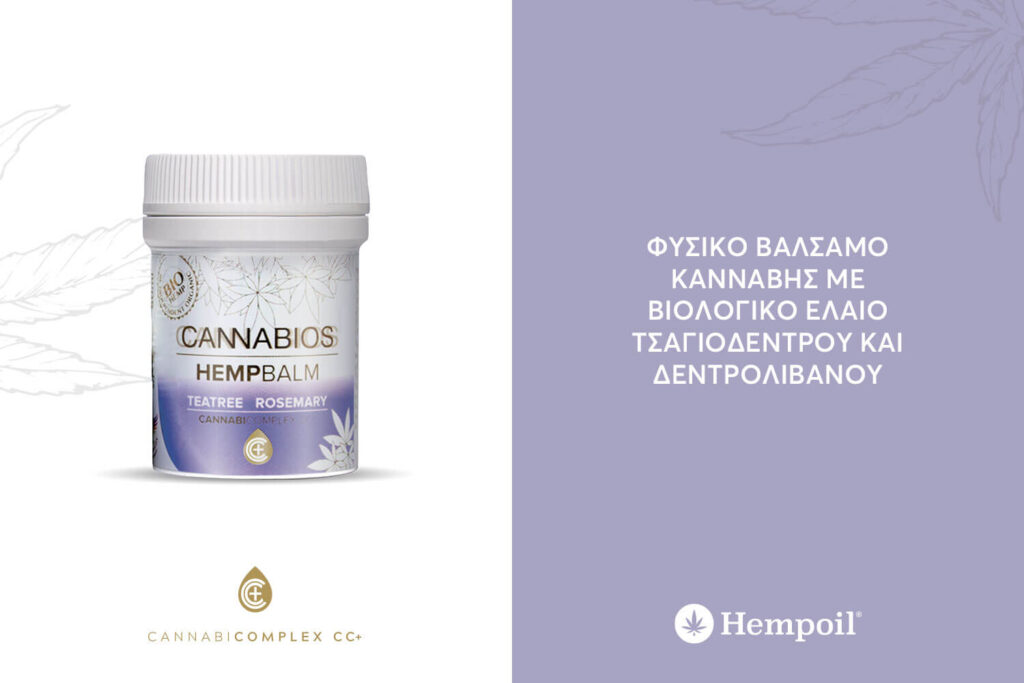 Among the recommended products as a remedy for the skin, CBD oil is one that stands out. Thanks to the anti-inflammatory action, CBD interacts with the endocannabinoid system soothing the psoriasis symptoms and relieving the pain, once the ointment is applied to the skin. CBD oil should be applied gently to the affected skin area and left to act. The amount of CBD to be applied varies and depends on the person, their response to CBD, and the disease's state.
At this point, we would like to refer to some products that may be useful in the decrease of psoriasis symptoms.
Trompetol Extra CBD and tea tree ointment:

Trompetol Extra & Tea Tree

Protects and refreshes the irritated skin, while according to the company, it is suitable for the treatment of skin diseases, thanks to the anti-inflammatory, antiseptic, antibacterial, soothing, and moisturizing properties.
We all know that nutrition has a crucial role in our bodies' health. Thus, it is essential to use products of premium quality that ensure efficiency.

Hemp Seed Oil (500ml)

is rich in vitamins, minerals, trace elements, Omega 3-6, zinc, phosphorus, and many more valuable ingredients that protect and strengthen our immune system. Thanks to its anti-inflammatory action, it offers protection to our cardiovascular system while soothing eczema, psoriasis, or acne.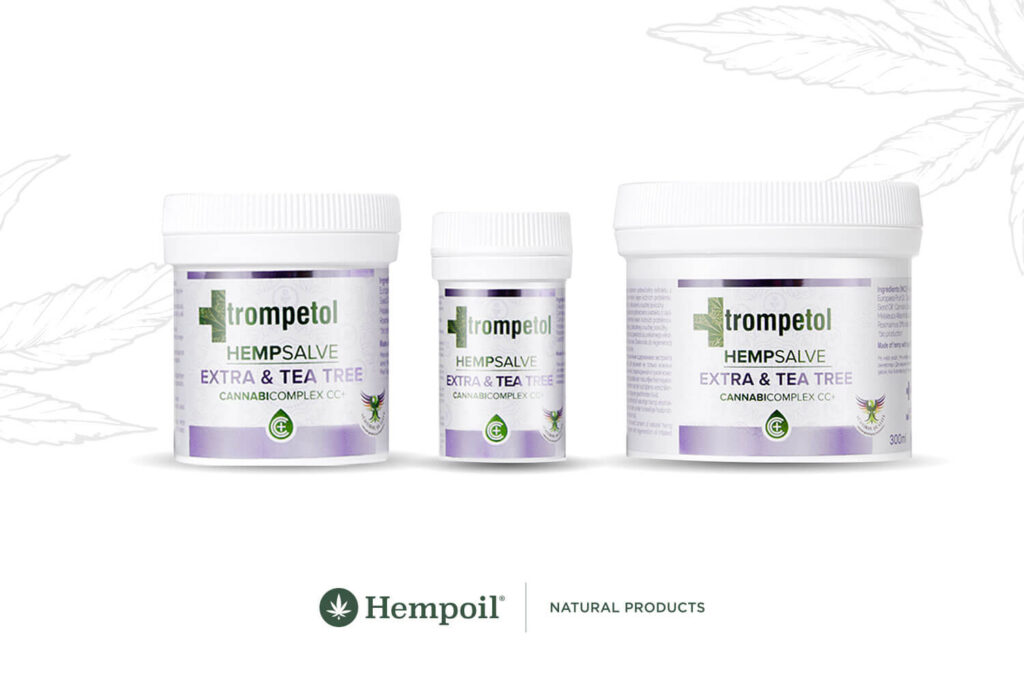 CBD and psoriasis, what the studies support?
A review of studies conducted up to 2016 aimed to highlight the benefits of cannabidiol (CBD) on inflammation and how the active cannabis ingredients can be used successfully in the treatment of various types of psoriasis.
One of the most common psoriasis symptoms is, in fact, the rapid reproduction of skin cells. In 2007, researchers from the Medical School of Nottingham University observed how specific ingredients of the cannabis plant – THC, CBD- were able to slow down the abnormal growth of keratinocytes, the primary type of cell found in the skin.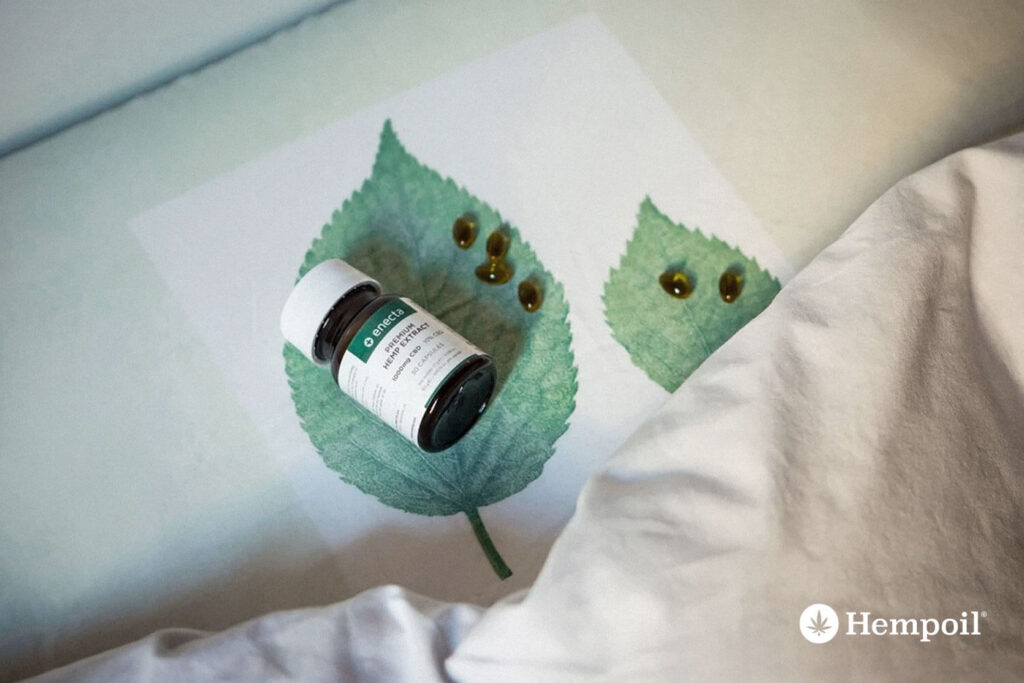 This evidence prompted the researchers to suggest the development of products containing those active ingredients that reduce skin cells' uncontrolled growth. In 2015, however, an important article published in JAMA described the role of cannabis in treating chronic pain caused by pathological conditions, including skin diseases.
To make the long story short, the authors highlight the clear link between cannabis use (topic use or other) and a substantial reduction in skin diseases and related symptoms.
Need help? Would you like to learn more about medical cannabis and CBD? Do not hesitate to contact us at [email protected] or reach us on our social media channels.