11 July, 2018
Enecta & CBD for Dogs and Cats: Is it safe?
2 MINUTES READ
More and more users are turning to CBD to support their four-legged friends, regardless of the severity of their illness.
Many people ask us about the benefits of Cannabidiol and the possible side effects, without neglecting the topic of dosage! One question in particular being whether our Premium CBD OIL for Pets contains THC?
Although Cannabidiol is a molecule present in cannabis you can be rest assured that your furry friend, whether it is a dog or a cat, as a result of taking the product will not suffer any mind-altering psychoactive effect.
CBD Oil For Pets does not contain THC. Olive oil is added to the CBD produced by varieties of Cannabis Sativa L. plants and with very low dosages of THC – therefore making it perfectly safe!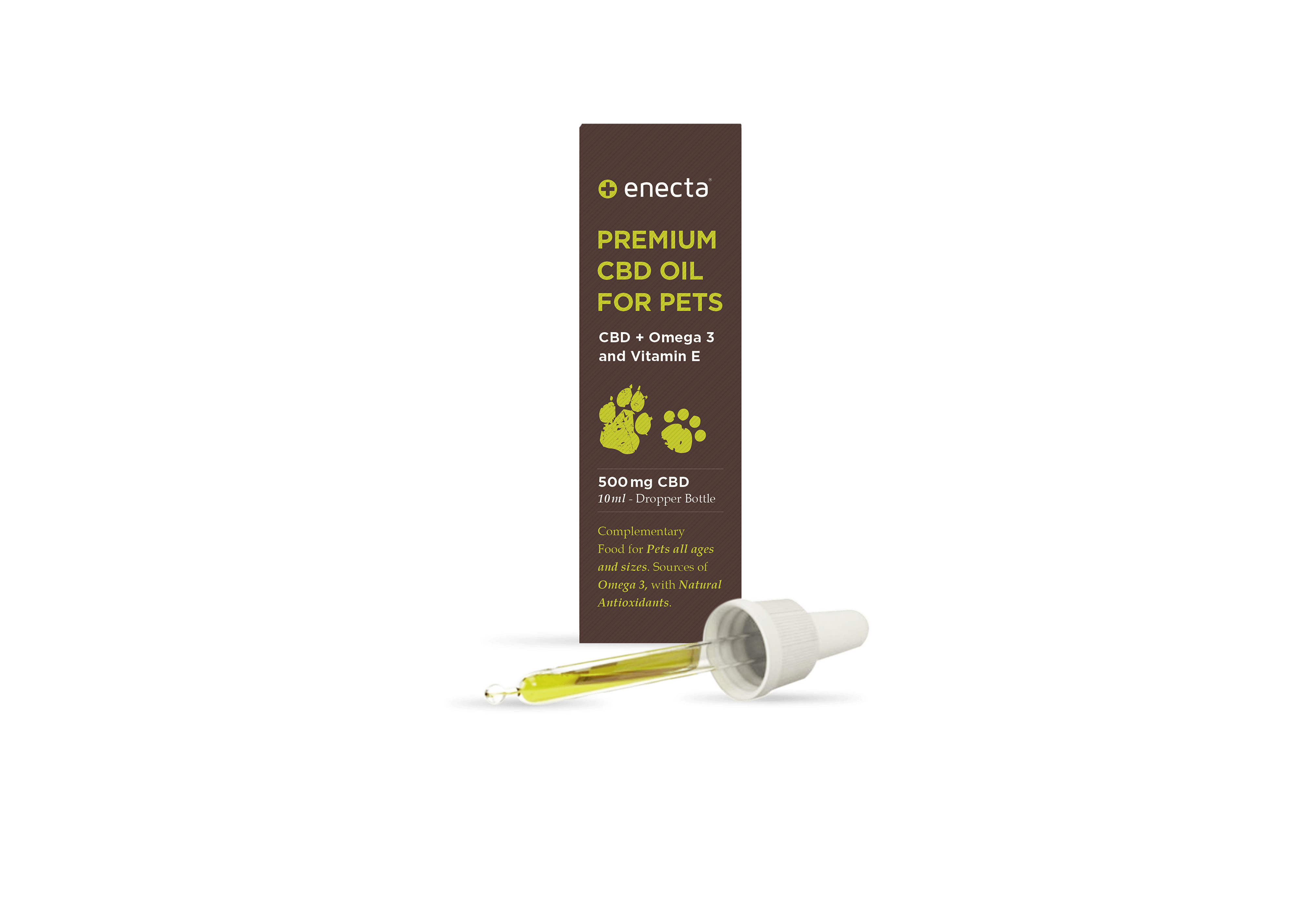 How does CBD work in pets?
Verterbrates have an endocannabinoid system exactly like that of humans, which affects a wide range of biological processes within the body. So the Cannabidiol acts on animals in a very similar manner to the way it interacts with humans.
One user wrote asking if CBD could be effective to counteract the anxious state of one's dog. The answer is definitely yes! Cannabidiol could prove to be an excellent ally.
How to give CBD to your four-legged friend? With which dosage?
You can add CBD drops directly to pet food. The dosage is one of the most debated topics – our advice is to start with a low dosage, be consistent and think about the desired effects, such as to manage anxiety.
Administering an excessive dose of CBD to your dog or cat will not create damage or special side effects, but they may not need it, so we always recommend starting with a low dose!
"Jack started to look less stressed and now I'm trying to adjust the dosage, currently set at 2 mg a day, taken at breakfast and at dinner. My goal is to find the right CBD dosage for him to stop me from even using Phenobarbital. "To read Jack's story, click here. My goal is to find the right CBD dosage for him to stop me from even using Phenobarbital.
What does science say?
A study conducted by the American Holistic Veterinary Medical Association has shown that 61.8% to 95% of pet owners have noticed significant health benefits after CBD treatments.
The diseases that, according to the study, have been cured with CBD include pains, nervous system issues, inflammation, anxiety, vomiting, digestive issues, tumors, convulsions, skin problems and phobias.
Source: https://www.enecta.com/
Would you like to know more about the world of medical cannabis and CBD? Do not hesitate to contact us.
Write an e-mail at [email protected] or leave a message to social media channels, Facebook @ hempoilshop.cy or Instagram!
hempoilshop.cy 211 4010715