Canna-X Preroll Stick "Black Mamba" 32% CBD – 1gr
€6.20
The No 1 Greek cannabis flower company Canna-x presents the new pre-rolled stick of "Black Mamba" strain with 32% CBD (Cannabidiol). Italian and Greek top quality products at the lowest price in Europe.- (Exclusively at Hempoil®) 1.2 gr. ℮ 1.2 gr. ℮
VALID FOR ORDERS PLACED UNTIL 14:30 NOON
Same-day shipping
?
Canna-X Pre Rolled Stick "Black Mamba" 32% CBD
Prerolled Stick Series! The No 1 Greek organic cannabis flower and extract company Canna-X presents the new pre-rolled stick of "Black Mamba"' strain with 32% CBD (Cannabidiol). Italian and Greek top quality products at the lowest price in Europe.- (Exclusively at Hempoil®) 1.2 gr. ℮
The Prerolled stick by Canna-X® consists of raw cannabis flowers of "Black Mamba" strains by Greek crops. The rolling paper is raw of premium quality made in France from unbleached 100% natural eco rice rolling paper!
Canna-X is cultivated under the Greek and Italian sun by the masters of the kind. From seed selection, cultivation, and manual harvesting, the team monitors closely all the stages in order to ensure the quality, the progress, the temperature, the color, even the shape of cannabis flowers guaranteeing the top quality for our customers.ς.
Cannabis flowers are accompanied with quality certifications and stable tetrahydrocannabinol (THC) content, less than 0,2% specially harmonized with the Greek / European Legislation in every harvest.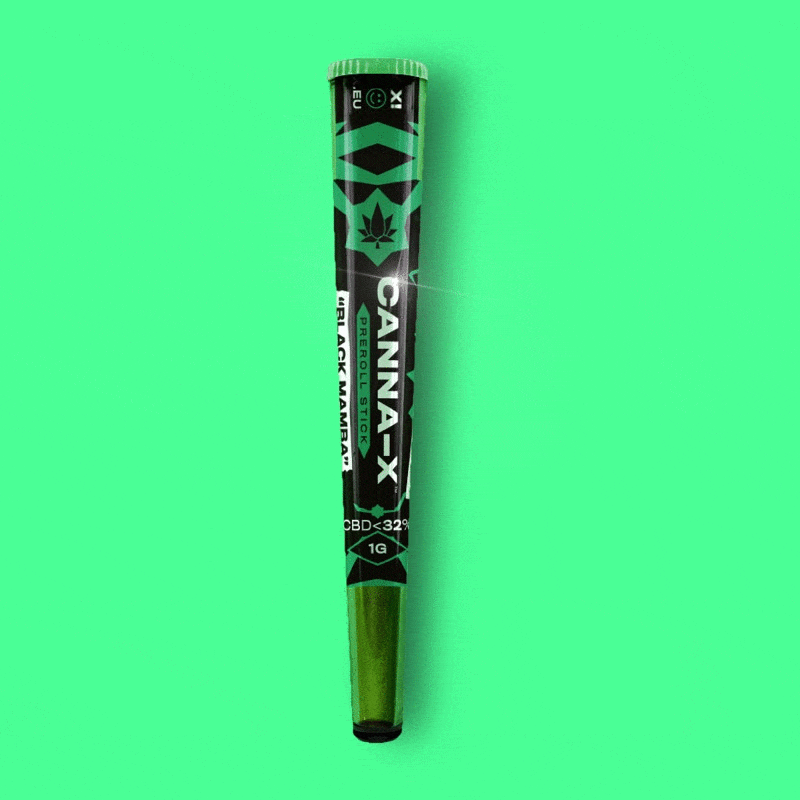 Pre-rolled Canna-X Features:
Italian Premium Quality

32% CBD (Cannabidiol) & CBDA, Terpenes

Fresh Flowers (Cannabis trim, no leftovers) 2021 harvest.

Strain "Black Mamba"

100% Organic crop

Collected / trimmed / packed by hand

Without extra flavors or Boosters (eg sprayed)

Exclusive cooperation and cultivation by Hempoil®

Content 1.2 ℮ grams of the pre-rolled stick in a plastic airtight package to guarantee fresh cannabis flower trim

Pure beneficial properties of Cannabidiol and Terpenes

Against Stress and anxiety

Promote the sleep

THC: <0.2%

Max CBD: 32%
Store the product in a dark and cool place away from children's reach.
The sale is allowed only to people 18+. The product is sold as a Collectible item.
See the whole Canna-X product line here.