Canna-X iLLEOo "Haze" Da Chronic Series 24% CBD – 2g
€12.95
The entire Hempoil® and Canna-X™ crew is proud to present the most progressive, tasty, and intense cannabis hybrid strains, rich in CBD (Cannabidiol). Their names get flesh and blood through our cooperation with the Talk of the town trapper (Hip Hop Artist), iLLeOo!! The hottest drop in the Greek Cannabis Scene consists of 2 unique strains, the iLLeOo "Haze", and iLLeOo "Fantasy", from the collection "Da Chronic Series". The Cannabis buds contain up to a maximum of 24% CBD (Cannabidiol) with a rich resinous terpenes profile that will enchant you. Bud Profile: Uplifted / Creative/ Energetic/ Extrovert/Against Stress / Cotton-mouth effect. Top-quality cannabis flowers at the lowest price in Europe, Greece. (Exclusively from Hempoil® and iLLeOo!)
VALID FOR ORDERS PLACED UNTIL 14:30 NOON
Same-day shipping
?
Canna-X Cannabis Flowers iLLEOo "Haze" Da Chronic Series
iLLEOo "Haze" – Da Chronic Series X Canna-X. The hottest Drop-in the cannabis scene is here, by Canna-X in collaboration with the Talk of the town trapper (Hip Hop Artist) iLLeOo!! Two new strains by crops of 2021 grown with love and care in outdoor cultivation in our facilities in Boeotia (region of Central Greece). Limited Edition. Our whole team of Hempoil® and Canna-X™ feel very proud of these progressive, tasty, and strong cannabis CBD hybrid flowers.
Here we can see the cannabis strain iLLeOo "Haze", from the new collection of Da Chronic Series with 24% CBD (Cannabidiol). The plant of this strain has long and slender branches with voluminous endings of intense shades of green, purple, and orange. The buds are not very dense yet they are rich in resin and pistils that will definitely excite you. The iLLEOo "Haze" strain has a sour and sweet taste with a light spicy aftertaste and is full of strong citrus aromas.
This strain, iLLEOo "Haze" hemp flower has intense beneficial, analgesic, and relief effects, while the percentage of cannabidiol CBD 24% will give you wellness and relaxation with a sense of euphoria in mind and body. A peaceful feeling by a limited edition of cannabis flowers line that will keep you company in the cold winter nights and the cool summer nights.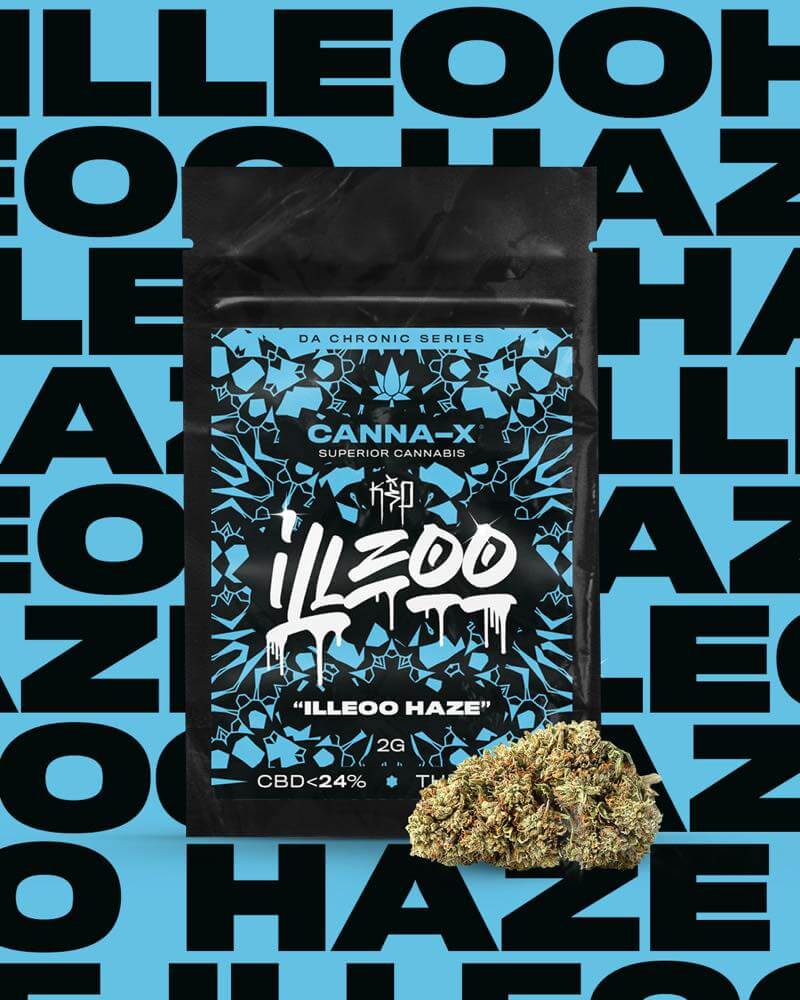 We are very proud that we managed to maintain the content of THC (tetrahydrocannabinol) under the limit of 0.2% during harvest. Our crops are free from pesticides to achieve a completely clean and natural result. The hybrid cannabis strain "Haze" contributes to managing stress, depression, anxiety, spasticity, headaches, inflammations while increasing extroversion. Besides the therapeutic properties, this unique Hemp flower strain with 24% CBD cannabidiol is known to promote a positive mood, relaxation, energy, and creativity.
These two new strains by the Canna-X X iLLeOo collaboration of a 2021 harvest, are grown with love and passion in outdoor cultivation on our facilities in Boeotia (region of central Greece). Cultivated under the Greek sun without pesticides, only from the experts of the sector.
From the seed selection to the cultivation, and then to the harvest by hand, our team closely monitors all the stages to guarantee top quality, progress, temperature, and color of the cannabis buds, ensuring top quality for our customers. The Cannabis Flowers, iLLeOo "Haze" and iLLeOo "Fantasy" are accompanied by certificates of quality and stable content in tetrahydrocannabinol (THC) less than 0.2% with an analysis by the Benakeio Institute specifically harmonized with the Greek/European Legislation in each of their harvests.
iLLEOo "Haze" Features:
Our strongest and uplifted strain till today

Greek Premium Quality

24% CBD (Cannabidiol) & CBDA rich in Terpenes

Fresh Buds from 2021 harvest

"Haze" Hybrid Strain

100% Organic crops

Collected and harvested by hand

Trimmed with a machine trimmer and refined by hand

Without extra aromas or Boosters

Strain profile: Uplifting / Creative / Energetic / Extrovert / Against Stress/ Cotton-mouth

Exclusive collaboration of Canna-X and iLLeOo

Airtight top-quality package of 2 grams to guarantee a fresh flower

Pure beneficial properties
Helps against Stress and anxiety
THC: <0.2%
Max CBD: 24%
Store the product in a dark and cool place out of children's reach. The sale is allowed only to people of the age of 18+. This is a collectible item.
Its recommended to vape with a dedicated vaporizer for the maximum effects of this amazing strain!
Discover the second seed of our collaboration with iLLeOo, the iLLeOo "Fantasy" here.
Explore the whole Canna-X Product line here.
© 2021 Keep It Pure X Canna-X