27 April, 2017
Αmbrosia – The nectar of the Gods.
2 MINUTES READ
Ambrosia was born in Amsterdam , the brain child of young Italian partners with the goal of revolutionising the world of vaping. The demand coming from the market at that time revolved around Cannabis, but following meetings with CBD industry experts, Ambrosia has become a product destined to the world of vaping to treat psychophysical symptoms.
What is Ambrosia?
The eliquid of Enecta takes its name from Greek mythology, where Ambrosia was the food and drink of the gods; the nectar that only the immortals could consume. The immediate and growing consumer appreciation gradually pushed Enecta to improve the quality and safety of Ambrosia through the direct sector, from growing hemp until the extraction of CBD.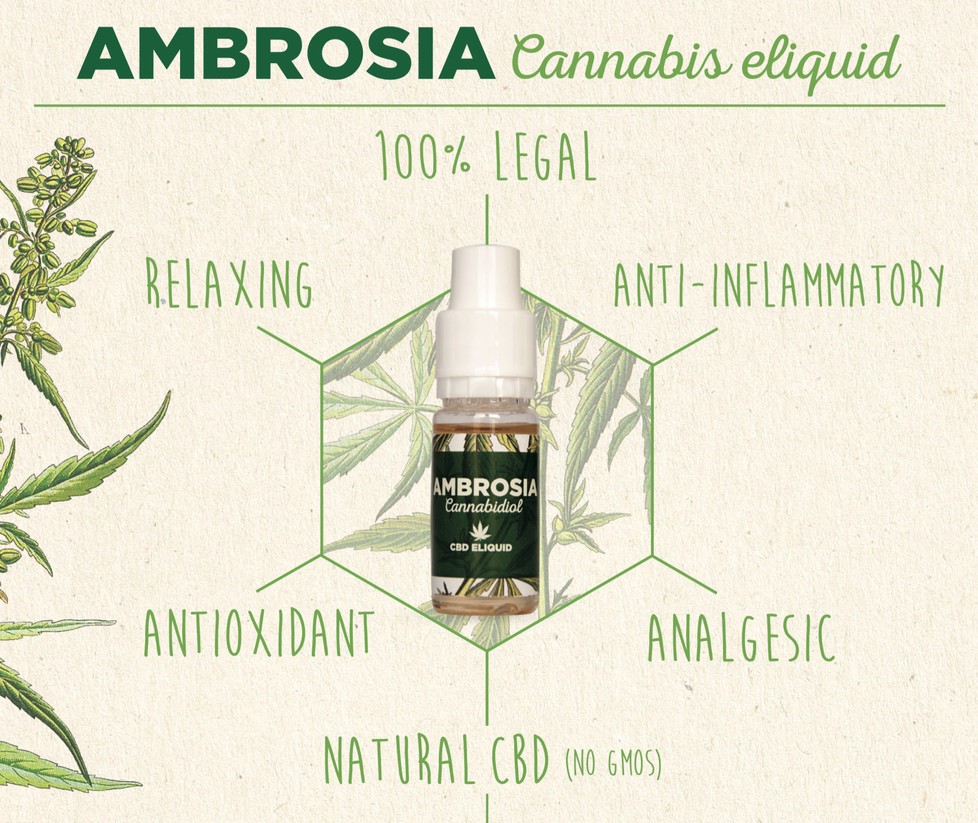 Ambrosia is available in three different flavours: Peach, Tobacco and Cannabis.
The liquid smell could decieve sceptical consumers but once you try it, it is difficult to imagine life without it. Svapando Ambrosia, minute by minute, becomes the new way of vaping.
The peach flavour presents a definite and delicate taste, giving those who "To Vape" a feeling of freshness and relaxation. It is recommended for a walk in the sun or before going to sleep, and is particularly suitable for summer.
The Tobacco flavour is often chosen by those who have quit smoking, or are looking for something that has the taste of tobacco, but relaxes, and does not contain nicotine. In this case, Ambrosia provides a strong and pleasant taste, and is recommended for those who vape throughout the day, over a beer with friends, or after a coffee. The classic taste of Virginia tobacco takes on a new flavour when combined with the Cannnabidiolo extraction, making it strong and intense.
The Enecta team was able to get a real taste of the natural extract of Cannabis, giving customers a unique and exclusive experience.
For who can we recommend Ambrosia?

Ambrosia features three flavours and three different concentrations of CBD. To begin with, it is recommended to start with a lower concentration to better capture its properties and to decide which will suit your individual needs throughout the day. Ambrosia is recommended for those who seek an alternative to classic vaping, such as for those wishing to quit smoking, in sports, or who wish to alleviate symptoms of anxiety. For some, it is simply a way to discover the world of CBD. Ambrosia – The nectar of the Gods.
Would you like to know more about the world of medical cannabis and CBD? Do not hesitate to contact us.
Write an e-mail at [email protected] or leave a message to social media channels, Facebook @ hempoilshop.gr or Instagram!
hempoilshop.cy – +30 211 4010715