Enecta CBDay Plus Full Spectrum CBD Oil 15% Intense – 10ml
€45.00
CBDay Plus Intense is your antidote against day-to-day stress! The Full Spectrum Oil contains all the beneficial properties of hemp plant. A natural top-notch 15% full spectrum CBD oil extracted from one of Enecta's proprietary strains: Enectaliana.
VALID FOR ORDERS PLACED UNTIL 14:30 NOON
Same-day shipping
?
Enecta CBDay Plus Full Spectrum CBD Oil 15% Intense- 10ml
Enecta CBDay Plus Intense by Enecta is your antidote against day-to-day stress. A natural top-notch 15% full spectrum CBD oil extracted from one of Enecta's proprietary strains: Enectaliana.
CBDay Plus 15% is a high-quality CBD oil containing all the compounds present in the cannabis plant. This unique combination of cannabinoids and terpenes, leads to an intense synergistic effect (entourage effect).
That's why you should buy CBDay Plus 15% Intense: the 5 plusses
CBDay Plus 15% contains the ideal concentration of active ingredients for those who want to fully take advantage of the benefits of CBD through the entourage effect. It has been developed to help you counteract day-to-day stress while naturally regaining physical and mental energy.
CBD Plus 5% is not extracted from industrial hemp plants but from Enectaliana, one of our proprietary strains and the result of years of study and research. Enectaliana is the first hemp strain developed especially for the extraction market to make it into the EU Common Catalogue.
To produce CBDay Plus 15%, we rely on an innovative one-step extraction process that maintains the properties of all molecules contained in the cannabis plant..
Every product passes through a series of tests conducted by third-party laboratories. Thus, we can guarantee our customers maximum safety and transparency.
All our CBD products, including the full spectrum CBD oils, are sold at an ethical price, the most accessible in Europe.

What is Full Spectrum CBD Oil?
Full Spectrum CBD Oil contains all the beneficial compounds of the hemp plant. Don't worry; the THC content remains underneath 0,2%. Alongside CBD, you can also benefit from the therapeutic properties of the terpenes and the other cannabinoids.The synergistic effect of these molecules enhances the benefits of cannabidiol and is commonly referred to as the entourage effect.
The entourage effect: everything you need to know
First who drew attention to this synergistic effect was the organic chemist Raphael Mechoulam. In a nutshell, the entourage effect stems from the synergy between several plant compounds – basically all cannabinoids that naturally occur and a rich terpene profile. Thus, the effect is far more potent than the one of CBD isolate. CBDay Plus 15% contains 1500 mg of CBD, a selected terpene profile, and other non-psychoactive cannabinoids.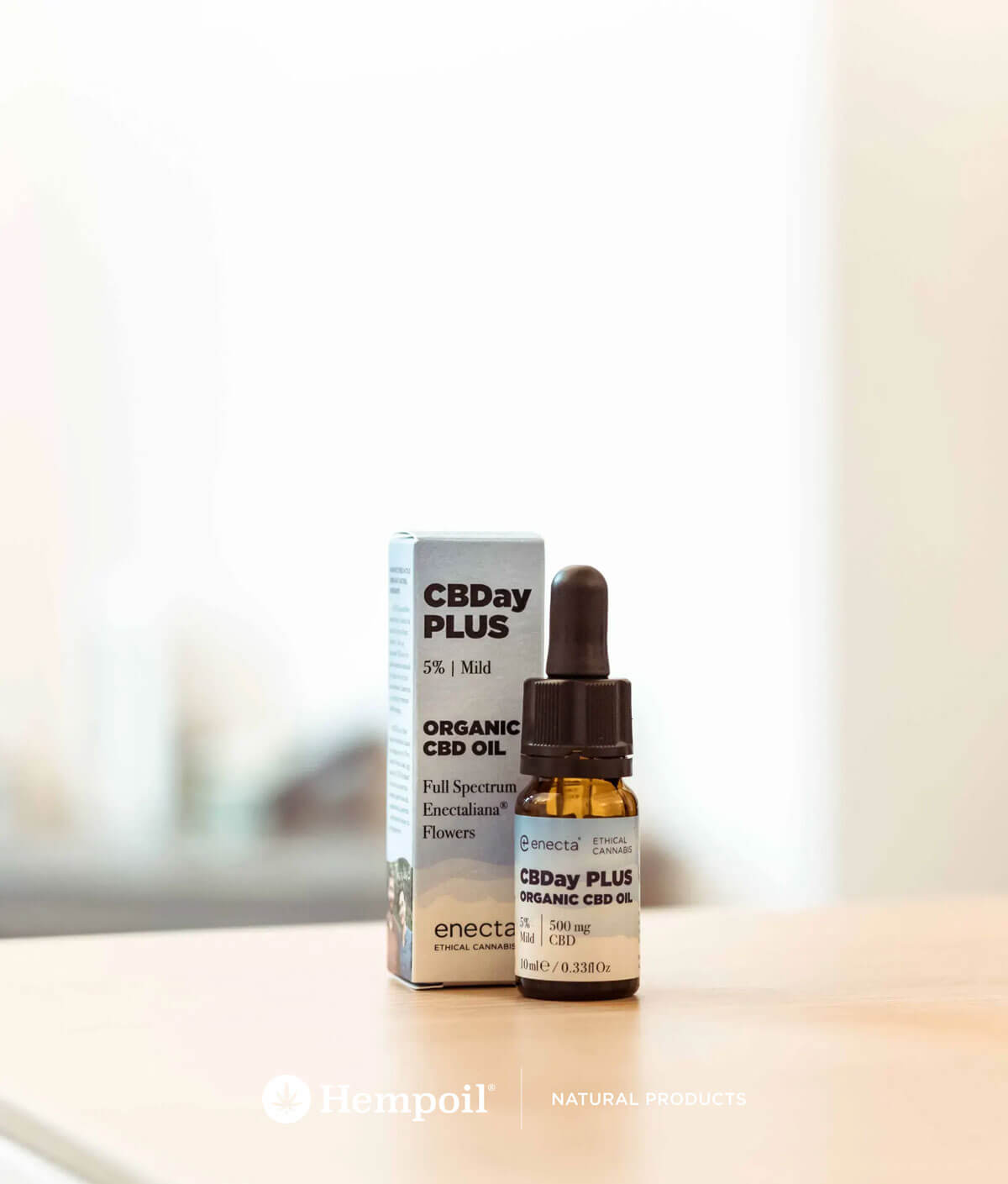 What cannabinoids does CBDay Plus 5% contain?
Alongside cannabidiol CBD, whose numerous beneficial properties we are familiar with, CBDay plus 15% contains other non-psychotropic cannabinoids.
CBG (cannabigerol):
The first cannabinoid formed by the hemp plant. This molecule is essential for the synthesis of all other cannabinoids, CBD and THC included.
Cannabigerol has antibacterial and anti-inflammatory effects and can help manage neuropathic and inflammatory pain. 
CBC (cannabichromene):
A non-psychoactive cannabinoid with interesting therapeutic proprieties. In particular, CBC would appear to have neuroprotective features and therefore be capable of preventing nerve cell degeneration.
CBN (cannabinol):
A very interesting cannabinoid. Although its molecular structure is very similar to THC, Cannabinol has no intoxicating effect. Instead, it is relaxing and slightly sedating. Not surprisingly, it is also one of the molecules that make up CBNight.
What are terpenes, and which ones are to be found in CBDay?
Terpenes are secondary compounds of Cannabis sativa. They strengthen the plant during its growth and at the same time protect it against pests like fungi, insects, or other causes of stress. They are also responsible for the plant's pleasant and characteristic smell and have several therapeutic properties – although less than cannabinoids. When developing a strain to extract full spectrum CBD oils, it is essential to enrich it with the proper terpene profile to ensure that the effects of CBD are appropriately underpinned.
Choosing the terpenes means directing the strain consciously towards specific characteristics and therapeutic properties. Every hemp strain has its terpene profile. CBDay Plus 15 % by Enecta is a full spectrum CBD product developed to help recover from day-to-day stress. The strain which it is extracted from contains the following terpenes in declining order of proportion:
Beta-caryophyllene: a very particular terpene capable of directly activating the CB2 receptors, which are part of our endocannabinoid system. It has relaxing, soothing, and mood-lifting effects and enhances the stress-relieving properties of CBD.
Nerolidol: the primary terpene of neroli essential oil. It has a soothing effect, fitting splendidly into a product dedicated to psycho-physical well-being like CBDay Plus 5%.
Alpha-humulene: a highly effective terpene commonly used in Traditional Chinese medicine. This compound has anti-inflammatory effects together with a structure similar to beta-caryophyllene. It, therefore, would appear to have the same relaxing effects.
Bisabolol: The terpene of chamomile had to be included in our strain. It is a delicate mood-lifter, relaxes, and reduces anxiety.
Our terpene profile is further composed of tiny amounts of limonene and myrcene. Limonene improves focus and concentration and lifts the mood. Myrcene has a potent,relaxing effect and favors sleep.

After the extraction process is completed, CBD is diluted together with the terpenes and the other active ingredients in MCT oil (from coconut oil), which serves as a safe vector.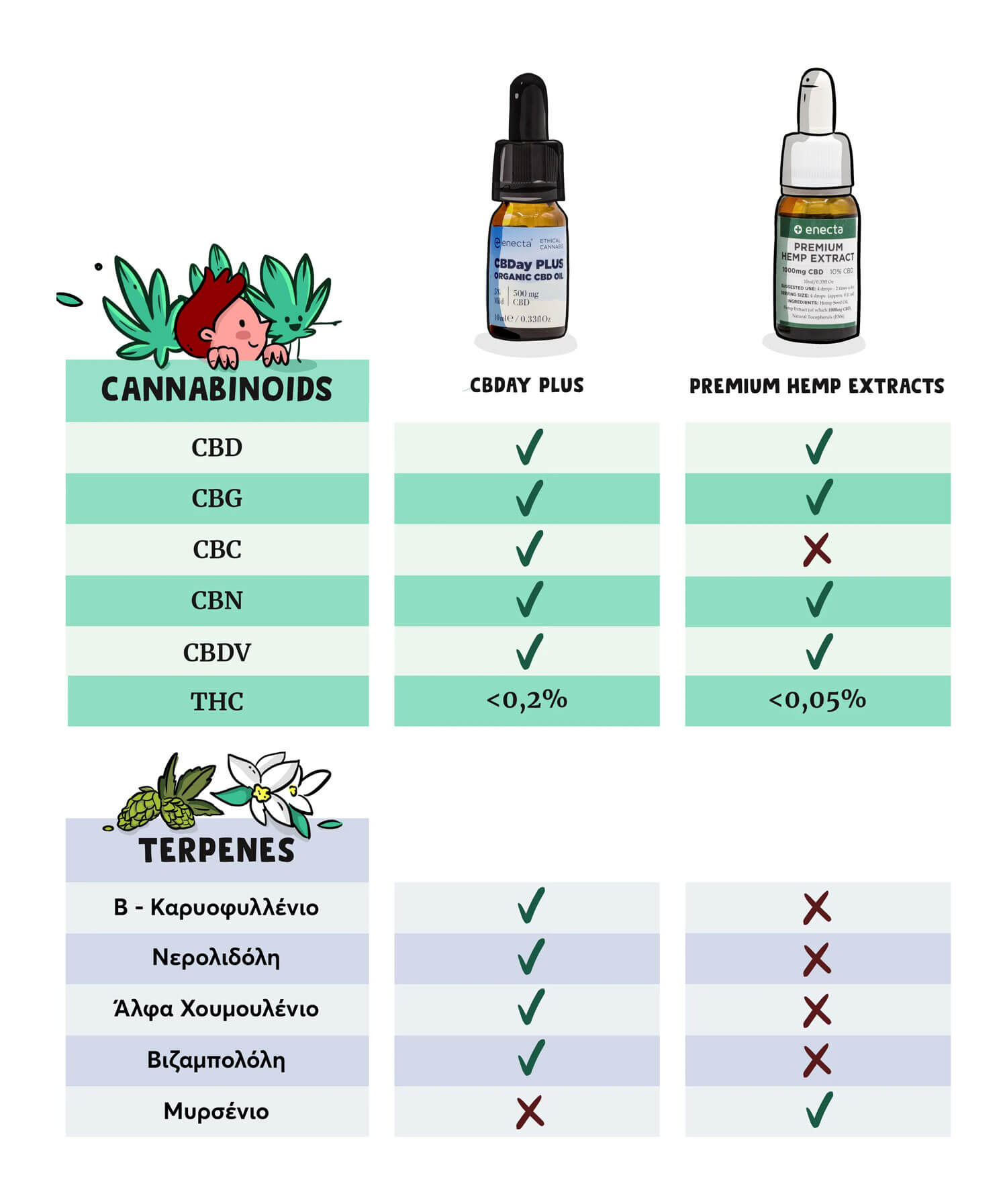 Enecta CBDay Plus 15%: The therapeutic properties
Due to the entourage effect, the therapeutic properties of CBD are enhanced by the interaction of other compounds contained in the hemp plant. In our case, we talk about CBG, CBC, CBN, and terpenes with a calming effect. CBDay Plus 15 % Intense naturally interacts with our cannabinoid receptors. It, therefore, helps you cope with day-to-day stress boosting at the same time your energy levels.
Enecta CBDay 15% Intense – ingredients
MCT oil (from coconut oil), hemp extract (Cannabidiol 15%)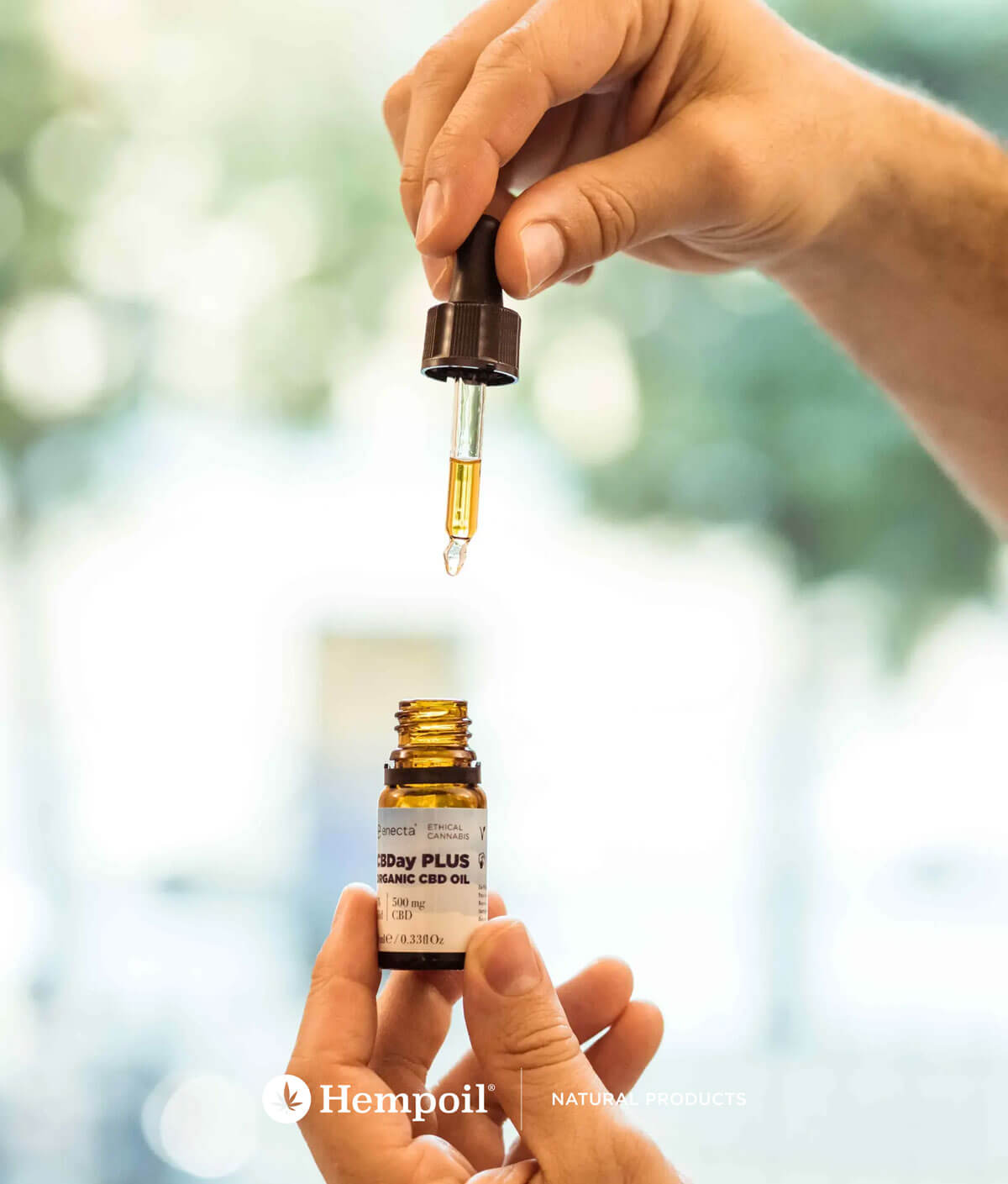 How many drops of CBD oil Full Spectrum should you take?
CBDay Plus 15% is a safe product and can be taken without worrying about side effects. The dosage must be determined individually and adapted to the body's response to the active ingredients.
How should you take our Full Spectrum CBD oil?
To take CBDay Plus, you can:
Put a few drops under the tongue and hold it in place for 60 seconds before swallowing.

Dilute it in milk, milkshakes, or ice-cream.
Please consider that it is not water-soluble.
Exclusive Distributor in Greece and Cyprus
Hempoil Natural Products (www.hempoilshop.gr)
Discover our whole range of CBD cannabis products by Enecta here.